GLEDOPTO 2.4G RGB CCT Remote Control
You Can Checkout Without Paying Anything!
You can make your reservation order from us without paying a single cent until we confirm your order and stock availability.
A follow up call or WhatsApp message (within 1-2 Working days) to inform you of your order and advise you on the payment method.
All prices you see are NETT with NO mark up.
Order with confidence!
Key Features
Gledopto 2.4G handheld remote control with 6 zones that can be controlled independently or simultaneously. Compatible with colour changing LED tapes that include RGB, RGBW & RGB+CCT.
Key Features
6 Light zones: Remote control for RGB, RGBWW and RGB+CCT lighting.
Can control multiple lighting types such as LED strips, downlights, floodlights, garden spotlights, bulbs and control units.
Can control all Gledopto Plus series LED lighting products
With multiple functions and 9 lighting modes
Compatible with RGB+CCT WiFi controller and the entire Zigbee LED light system
Power supply mode: 2 * AAA batteries (DC3V) (not included)
Control distance: 30m/100ft
Product code: GL-RC-006Z
Manufacturer: Gledopto
Guarantee: 2 years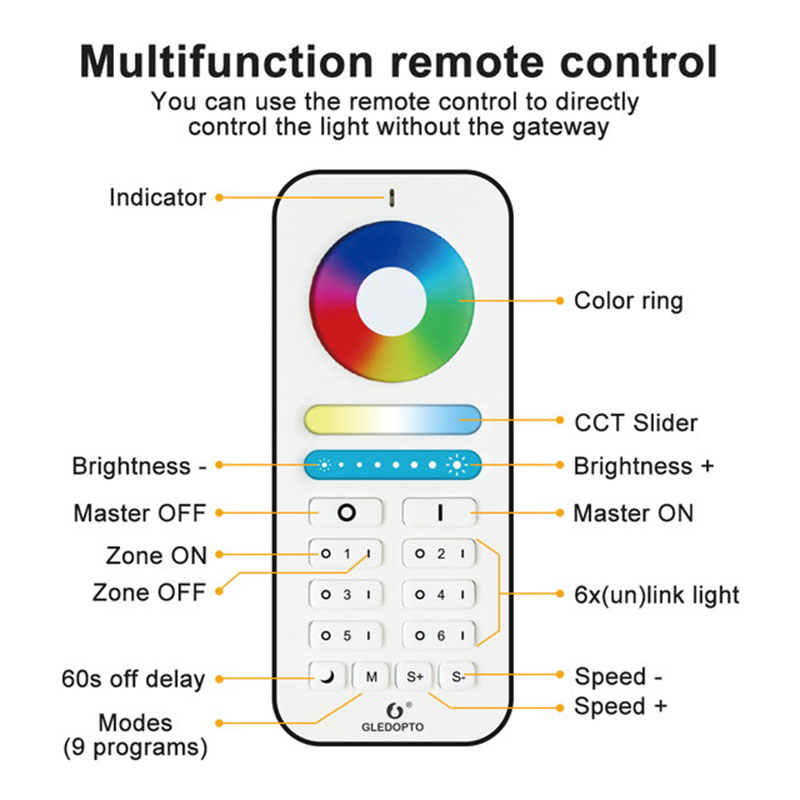 Length: 130mm
Width: 55mm
Depth: 18mm

Installation
1.Turn off the Power.
2.Plug in the bulb.
3.Now you can connect it with the gateway.
Connection with Gateway:
1.Start the device searching on the ZigBee Light Link Gateway, it could take some time.
   If the Gateway does not find the device, switch off/on the gateway and try again or
3.The Gateway found your device and you can assign it to the different rooms/zones/groups.
4.Now you can use the device.
Reset
1.Switch on your device.
2.Now switch off and on within 2 seconds.
3.Repeat off/on four times.
4.Reset is done when the device is switched on in the fifth time and the light stays on after blinking 4 times.
Link & unlink with 2.4GHZ RF Remote Control
How to Link
Within 3 seconds after power on, click the "on" button of the group to conduct code matching, and the LED lights turns green, indicating successful code matching.


Long press the "off" button of the remote control to enter the night light mode, and the brightness and colour can still be adjusted at this time.

Long press the small moon key to enter the 60 seconds delay shutdown state.
Long press M key to enter automatic mode.
If the LED is still connected to the ZigBee gateway, long press the "on" button on the remote control within 3 seconds after power on or press the button for 5 times continuously, the light will flash for 5 times in the current colour.

If the LED is not connected to the ZigBee gateway status, on press the "on" button on the remote control within 3 seconds after power on or press the button for 5 times continuously, then the LED light will be fully bright and flashing for 5 times.
Click on the Whatsapp Icon to ask us any question!
Remember to indicate on the product you are enquiring about.
Fall in love with the legrand galion switches, champagne gold. Appreciate Mr Fong in telling us more in details. Would recommend my friends and family to get switches from here.
Recommended by a close friend on LightGuru. Mr Fong, handled our enquiries profesionally & knowledgeable. 2 thumbs up!!
Seller friendly and knowledgeble on the products and advises as per your needs. Shall patronise again😊
Bought again after trying them out first time. This time I bought 12 sets! Just installed them and all good. Thanks guys! Good job! 👍🏻👍🏻
Love the lights. Since it is 3 tone, it give a different aura for the environment. Highly recommend to buy from the store. ♥︎