Philips Hue 9W A60 E27 Bulb (White and Color Ambiance)
You Can Checkout Without Paying Anything!
You can make your reservation order from us without paying a single cent until we confirm your order and stock availability.
A follow up call or WhatsApp message (within 1-2 Working days) to inform you of your order and advise you on the payment method.
All prices you see are NETT with NO mark up.
Order with confidence!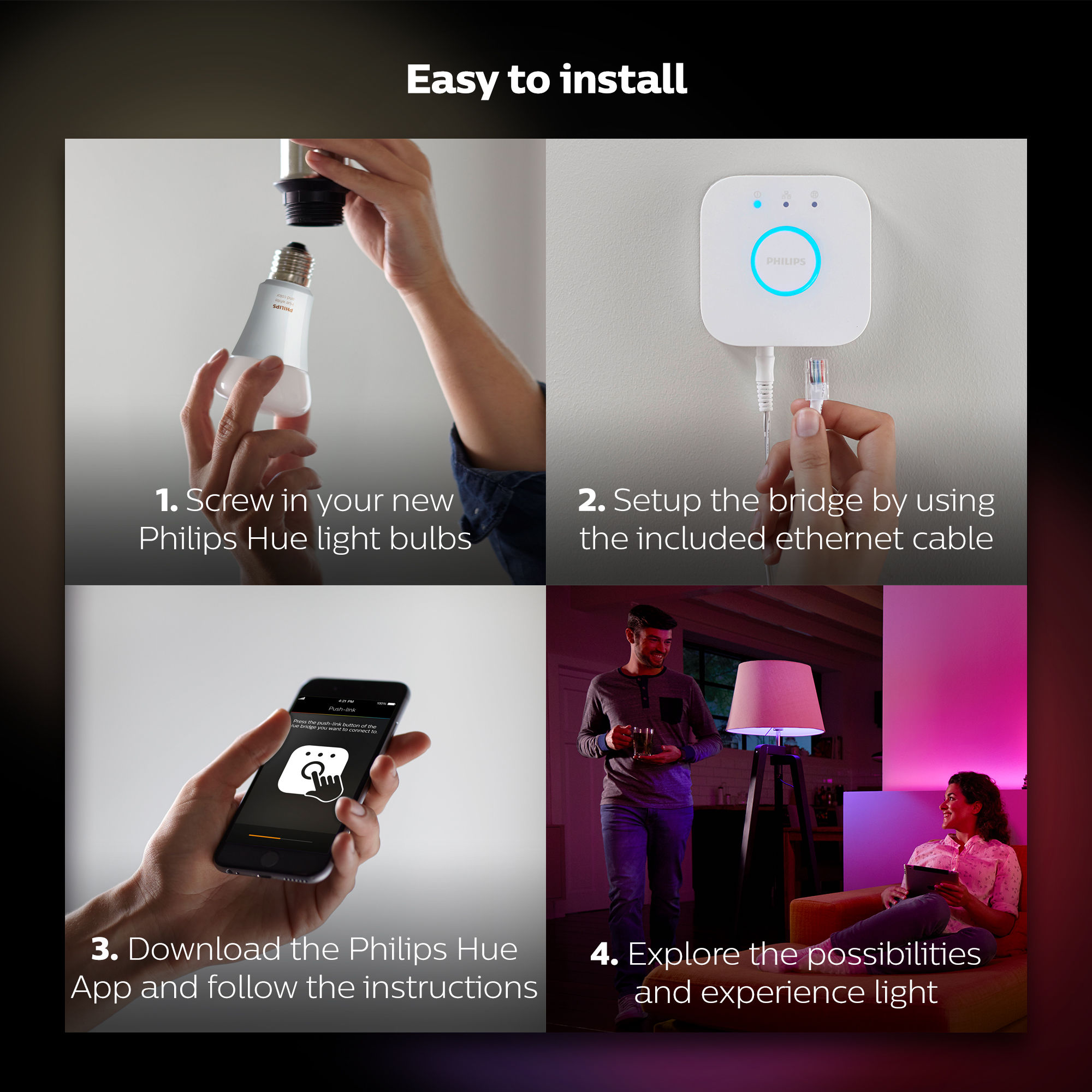 Philips 飛利浦 Hue 彩光+白光 WCA 9W A60 E27 智能燈膽入門套裝 (支援藍牙)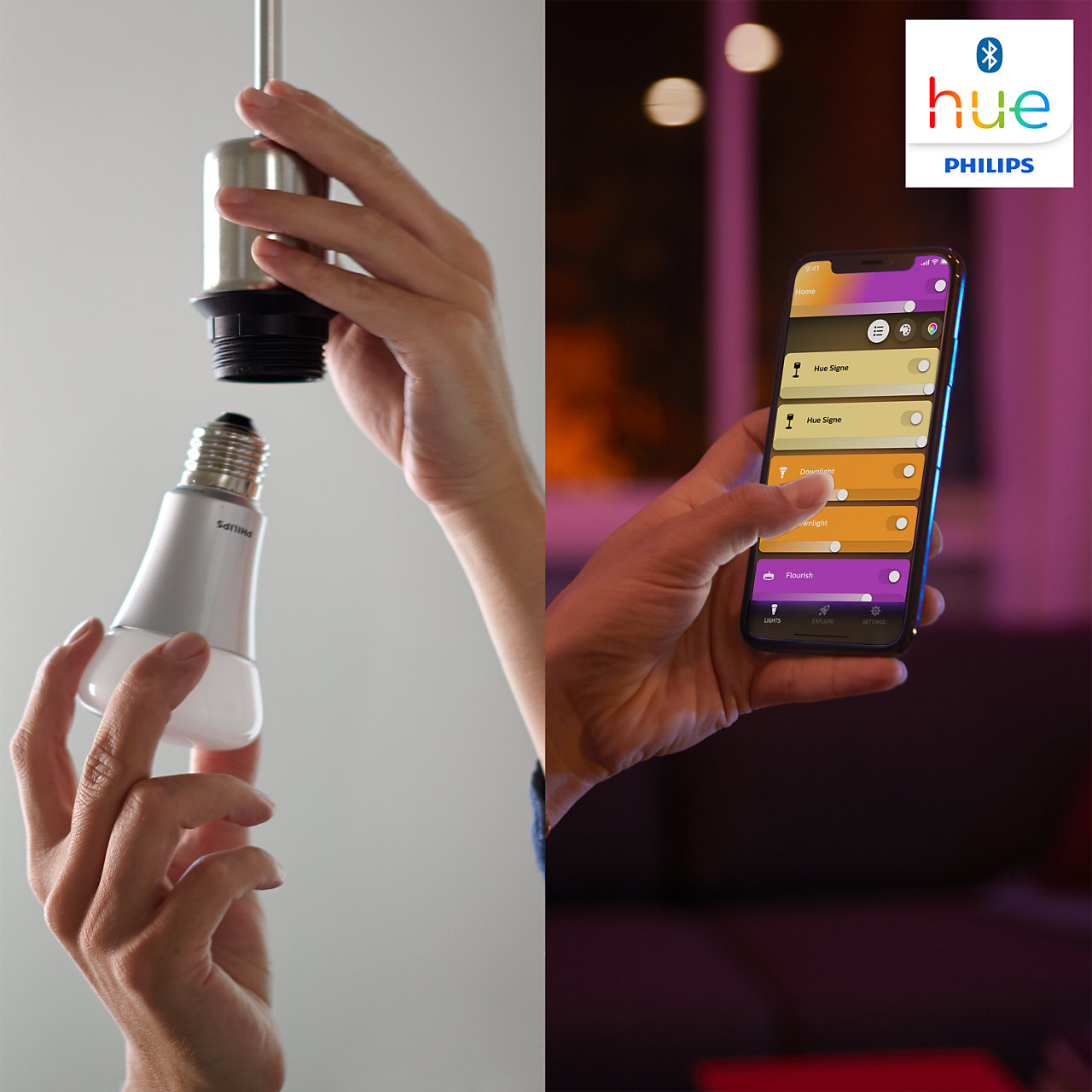 Put color in any room with a single smart bulb that emits warm white to cold white light and 16 million colors. Use Bluetooth to directly control the lighting in a room or connect to the Hue Bridge to access all features.
| | |
| --- | --- |
| Socket: | E27 |
| Dimmable: | Yes |
| Output: | 9W |
| Kelvin: | 2000K-6500K |
| Life expectancy: | 25000 |
| Lumen: | 806 |
Paint with light
Play with light and choose from 16 million colors in the Hue app to match the light to your mood. Use a favorite photo and re-live that special moment with splashes of light. Save your favorite light settings and recall them whenever you want with the tap of a finge
Create your ambiance
Set the right ambience for any moment with a range of beautiful, natural white light. Use the app to set any shade of white light, from cool energizing daylight to relaxing warm white light. Take control and set the ambiance. Not too bright. Not too dark. Just right.
Wake-up naturally
Ease your sleeping routine and wake up gently for a fresh start of each day. Philips Hue will help get you out of bed in a nice way. The gradually increasing light intensity gives you the feeling you are waking up naturally with sunlight – rather than the rude awakening of an alarm ringing
Sync light to music and movies
Extend your TV viewing experience to the whole room or lift your gaming experience to the next level. Download a third party app and discover the amazing things you can do with Philips Hue. Or sync light to your favorite music and enjoy every beat to the fullest. Turn any room into a dance floor and see how light reacts to your music. Download one of the third party apps and get the party started with Philips Hue
Light for your well-being
Light influences our mood, behavior, alertness and routines. Through the app, you can set the light that is optimal for your moment. Philips Hue helps you to energize, concentrate, read and relax. Customize your daily routines into moments you can enjoy. Feel different. Feel better
Away-from-home control
You can control your lights remotely wherever you are. Check if you have forgotten to switch your lights off before you left your home, and switch them on if you are working late. With geofencing technology, your lights can even welcome you home or switch off automatically when you leave your home. It's all about simplifying your life and giving you peace of mind in smart and useful ways.
Click on the Whatsapp Icon to ask us any question!
Remember to indicate on the product you are enquiring about.
Fall in love with the legrand galion switches, champagne gold. Appreciate Mr Fong in telling us more in details. Would recommend my friends and family to get switches from here.
Recommended by a close friend on LightGuru. Mr Fong, handled our enquiries profesionally & knowledgeable. 2 thumbs up!!
Seller friendly and knowledgeble on the products and advises as per your needs. Shall patronise again😊
Bought again after trying them out first time. This time I bought 12 sets! Just installed them and all good. Thanks guys! Good job! 👍🏻👍🏻
Love the lights. Since it is 3 tone, it give a different aura for the environment. Highly recommend to buy from the store. ♥︎